Nominations being accepted online in the Fall
November TBD: Nominations Close at TBD pm CT.
November TBD: Announce Winners on Social.
November TBD: Award winners at their schools.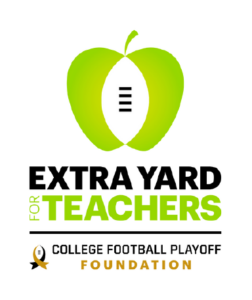 The 68 Ventures Bowl joined with the college football family to go BIG to support teachers. Organized by the College Football Playoff (CFP) Foundation, the BIG DAY is a national day of supporting and celebrating teachers, by saying "thank you" in many ways to amazing educators dedicated to helping our kids learn and now we want to honor 10 more teachers.
How to Nominate:
1. Think of a teacher in your life that has gone above and beyond
2. Click on the button above to nominate
3. Attend the 68 Ventures Bowl on December 23, 2023 or tune in to our social media to see the winners
For more information please contact the 68 Ventures Bowl office at 251-635-0011 or contact@MABowl.com.